[vc_row][vc_column width="1/3″][vc_column_text]
What is Ramadan?
---
Ramadan is the ninth month of the Islamic calendar. Islam uses a lunar calendar – that is, each month begins with the sighting of the new moon. Because the lunar calendar is about 11 days shorter than the solar calendar used elsewhere, Islamic holidays "move" each year.
For more than a billion Muslims around the world-including some 8 million in North America-Ramadan is a "month of blessing" marked by prayer, fasting, and charity
[/vc_column_text][/vc_column][vc_column width="1/3″][vc_column_text]
The National Algerian Centre opens their café doors to the community with the return of the BIG DINNER!
---
The Big Dinner was first launched in 2013 and is being supported once again this year 2017, by Brent Council o bring communities closer together with an aim to develop social cohesion between Algerian and the diversity of cultures in London.
The Big Dinner is a volunteer-led project to which the community is invited to join the fast-breaking meal every evening for 30 days during the month of Ramadan. This year Ramadan begins on 27th May and will continue for 30 days until 24th June.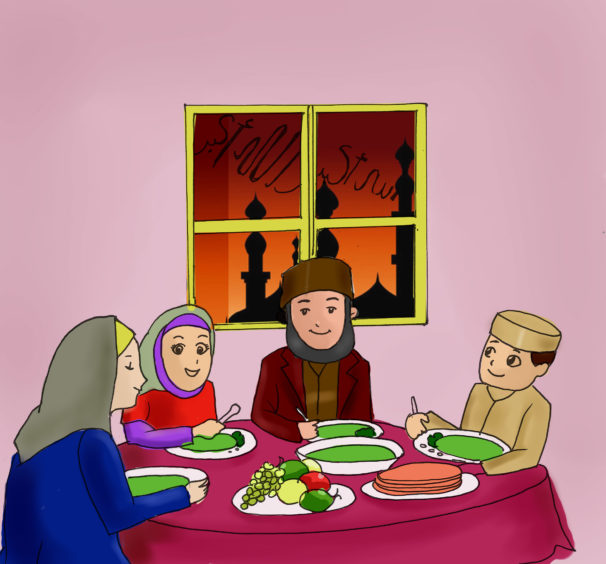 [/vc_column_text][/vc_column][vc_column width="1/3″][vc_column_text]
Why we are requesting the pleasure of your company
---
Sharing – 'Sharing Ramadan' program – giving the cultures the opportunity to visit a Big Dinner and share in the very important breaking of the fast meal with the Algerian community of London. It is an opportunity to look around the café, ask questions about Islam and meet with those of the Muslim faith. For those that have attended previously it was a simple yet profound experience. Spaces for this event are limited – so sign up ASAP if you're interested!
Community – Our weekly community Dinner takes place every Wednesday at the Concord Café, led by our volunteer chef. Cooking from the heart, the dinner is a means to inspire people to gather under one roof, enjoy each others company and for each individual to feel comfortable, equal and accepting.
Appreciation – When everyone is fasting, they get sense of how starving people feel all over the world. Thus, they realise the blessings of Allah (God) and appericate His blessings even more,  because Allah (God) has blessed us with food and water whilst many people don't have food and water. It makes us realise that we are very blessed and automatically become much more appericated.
The Importance of Your Donation – The traumas caused by poverty can affect people for many years. Your regular support will give us the confidence to plan ahead so we can be there for as long as we are needed, providing the services that people desperately need.
[/vc_column_text][/vc_column][/vc_row][vc_row][vc_column][vc_column_text]
Your monthly donation
---
[/vc_column_text][vc_row_inner][vc_column_inner][edgtf_image_gallery type="slider" autoplay="3″ slide_animation="slide" pretty_photo="no" navigation="yes" pagination="yes" images="6959,6973,6975,6976″][/vc_column_inner][/vc_row_inner][/vc_column][/vc_row]